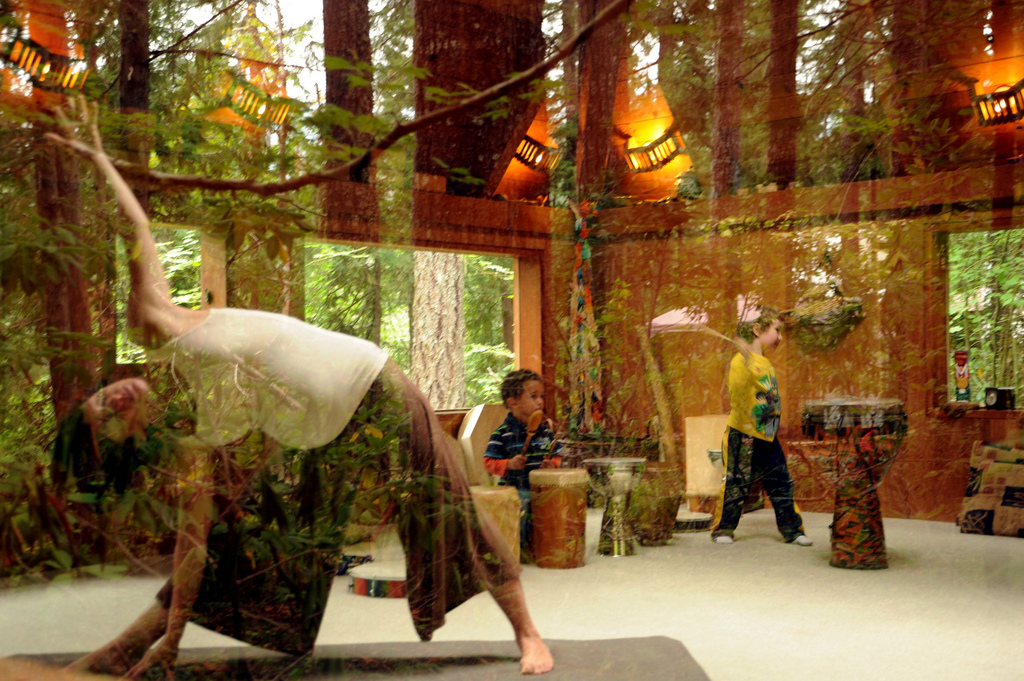 ""It may be hard to believe that stopping to meditate together just a few minutes each day could possibly make your kids happier and more peaceful and confident, but give it a try for three months and see for yourself. I saw it in my own children, and I see it all the time in the families I work with as a children's meditation teacher."
~ Kerry Lee MacLean
When I first left my for-pay job to stay home with my boys, I had a dream of reinstating my daily meditation practice. My then 10-month-old son was not yet sleeping through the night, or anything close to it—Bean hated our daytime separation so much that he would often cluster feed at night to get the mommy-time he craved—so my previous routine of getting up early to get some me-time wasn't really working. I knew it was an idea to keep working towards, but I needed something to feed me in the interim. My aha! moment came when it occurred to me to include my boys in my practice, and Spirit Time was born.
Spirit Time is my opportunity to do my practice in front of my children, and they are welcome to join in if they choose to. That doesn't mean that it looks anything at all like my typical morning practice, which really requires about 30 minutes of alone time to feel satisfying. It is much more kid-friendly, including meditation, movement, and reading.
Meditation
My boys were not yet 1 and 3 when we started Spirit Time, and now they're not yet 2 and 4. This makes for a pretty loose interpretation of the concept of meditation. When I started, I would simply sit on my meditation cushion and attempt to watch my breath "in the middle of the marketplace," otherwise known as our playroom-of-a-living room. I'll put on a New Age Pandora station or turn the TV to Comcast's Soundscapes to provide some calming background music, perhaps more for my sake than for theirs. Some days I end up with a child (or two) in my lap. Other days I end up being a climbing structure. Today, Bean was having a seriously rough morning and kept melting down, so I ended up nursing him while I watched my breath.
I recently fell in love with this Simple Toddler Meditation, and I've borrowed/adapted a couple of components for our use. When it is time to begin Spirit Time, we often have to clean up our toys first so I sing a little cleaning song. Then I move into our Spirit Time song, sung to the tune of London Bridge: "Please come and join my little ring, little ring, little ring. Please come and join my little ring, and make it a little bit bigger." Spider Boy will often set up a pillow for each of the boys as well as my meditation cushion, so technically there is a place for all three of us, and I will talk for a minute in a soothing voice to help let them know what I am doing, as if I am leading a guided meditation. I will take a few deep breaths and, depending on their energy, maybe take a moment or two to watch my breath, and then I'll move into vocalizations. Spider Boy especially loves language, so I start by taking five deep breaths, making one of the vowel sounds on each outbreath. A becomes aaaah; E becomes eeeee; I becomes iiiii; O becomes ohhhh; and U becomes ooooh. Bean especially loves animals, so then I will take five or so more deep breaths, making an animal sound on each outbreath. Favorites include moooo, cock-a-doodle-doooo, hisssss, hee-haaaaw, and neeiigh.
I know as the boys get older, we can move into more traditional guided meditations and visualizations, but for now my intention is to model a sitting practice for them, and to ground my own energy, which has huge affects not just directly on me, but on them as well.
Movement
Getting my boys into yoga was one of those "seemed like a good idea at the time" ideas for far too long. Spider Boy is really resistant to "follow the leader" type activities, and isn't one to participate when, say, there's a song at his preschool with hand movements. He might do them later when it is his idea to sing the song, but not typically in the moment. I tried showing him yoga videos with kids doing the movements, and he thought they were amusing (sometimes), but really was not interested in doing the movements, and often would get upset with me for attempting to do them myself.
Bean is another story. Now that he is old enough to do the movements himself, he loves them, so I am one happy yoga mama. We started with a handful of toddler yoga videos from YouTube to provide a common base for us to work off of. While I love The Sun Dance (and watching either Spider Boy or Bean do a downward dog is priceless!), Bean's favorite by far is Bug Yoga. This morning we checked out a couple of kids' yoga videos I noticed On Demand. The Space yoga wasn't as big of a hit as I thought it would be, but Bean loved the Farm one. At one point she has the kids doing back rolls (saying it's like pigs rolling in the mud), and Bean got super excited and dropped onto the floor to do Dead Bug Pose. (Precious!)
As time goes on, I expect Bean to take the lead here, with Spider Boy following a little more reluctantly. As Spider Boy starts to get favorite movement activities over time, I can incorporate more of what I know he likes to get him engaged, and perhaps just encourage him to do it on his own at other times of day. I will also incorporate movement from other traditions, like qigong. But much like the meditation, my goal for now is to model movement that gets our energy flowing.
Reading
Spider Boy is an avid reader. He loves being read to, listening to audiobooks, and now beginning to read himself. Bean is much more hit or miss, loving books in theory but having minimal patience to sit through full books. Either way, setting aside time to read to the boys each day is incredibly important to me, as is having at least one of those books be one with a good message. Typically I'll get out three or four books and let Spider Boy choose one for us to read. This enables me to focus where I'd like for us to go during Spirit Time, and then if either of the boys wants to read a second book (or more), I'm open to whatever they're interested in. This morning, they both desperately wanted to read, and all three of us each picked out a book. We started with A Great Attitude—a simple book with a simple message about how it isn't what happens to you that makes you have a good day, it's how you choose to respond—and then moved on to Anh's Anger—a wonderful story about a boy who befriends his anger and learns how to release the negative energy in ways that leave him feeling good and empowered. And then Bean snuggled into my lap to read What Does It Mean To Be Present—a simple yet beautifully illustrated book that talks about mindfulness and being present aimed at school-aged children. Bean had a great time pointing out the blue butterfly on each page.
I love having this time to read about things that are important to me, like mindfulness. They are each going to take away probably a sliver of what the book's intention is, especially when we read something like poetry from Earth Prayers, but I know what is said is percolating in their brains when Spider Boy asks a question later in the day (or week, or even month) about one of our Spirit Time stories. For their first six years especially, children are such little sponges. They are absorbing substantially more of what they're read to (and shown and told, etc.) than we ever anticipate, so my goal is to be sure that for at least one story a day, they're being given tools to build a strong foundation for their social, emotional, and spiritual development.
Spirit Time On The Go
There are days when we simply just do not have time for Spirit Time. While any one step of Spirit Time is not that time consuming, the boys are still so young that there is a considerable amount of running around time in the midst of the practice, so it can take anywhere from 30 minutes to 90 minutes (not dedicated time, of course!) I typically have it incorporated into our morning routine so that we are getting dressed, going potty, and possibly even cooking breakfast in and around our practice. However, if we are planning a grand adventure for the day and need to be out of the house early, we will take Spirit Time with us. I will let my mom drive, and then I can walk the boys through a modified meditation and some reading time, and sometimes we will even squeeze some yoga in at the park or wherever we're headed. (Bean loves to do Dead Bug Pose just about anywhere!)
As with so many things about parenting, this practice has taught me not to compartmentalize so much. No matter what we are doing throughout our day, this is life. It can feel crazy and chaotic sometimes, but that doesn't mean we don't have time to do what is important to us. At first it may feel like you're carving out that time, and possibly even sacrificing something else in order to make it work, but then it becomes just a part of the routine, a part of life, as integral to your life as breathing is. This is my goal with Spirit Time, to make sure that I am taking the time to nourish my spirit all while showing my boys that it is something worth making time for. The long-term benefits for them are huge—self-regulation skills, the ability to focus, even improved health—and short-term, getting to share this part of my life with them is priceless. Namaste.
Recommended Reading
Anh's Anger, by Gail Silver
Calm-Down Time, by Elizabeth Verdick
Earth Prayers From around the World: 365 Prayers, Poems, and Invocations for Honoring the Earth, edited by Elizabeth Roberts and Elias Amidon
Give Me Grace: A Child's Daybook of Prayers, by Cynthia Rylant
A Great Attitude, by Sandi Hill
On the Day You Were Born, by Debra Frasier
The Peace Book, by Todd Parr
Peaceful Piggy Meditation, by Kerry Lee MacLean
Seven Spirals: A Chakra Sutra for Kids, by Deena Haiber and Aimee MacDonald
What Does It Mean To Be Present, by Rana DiOrio
Photo: Standing triangle yoga practitioner, children playing drums, activity room, trees reflected in the view window, Breitenbush Hot Springs, Breitenbush, Marion County, Oregon, USA by Wonderlane