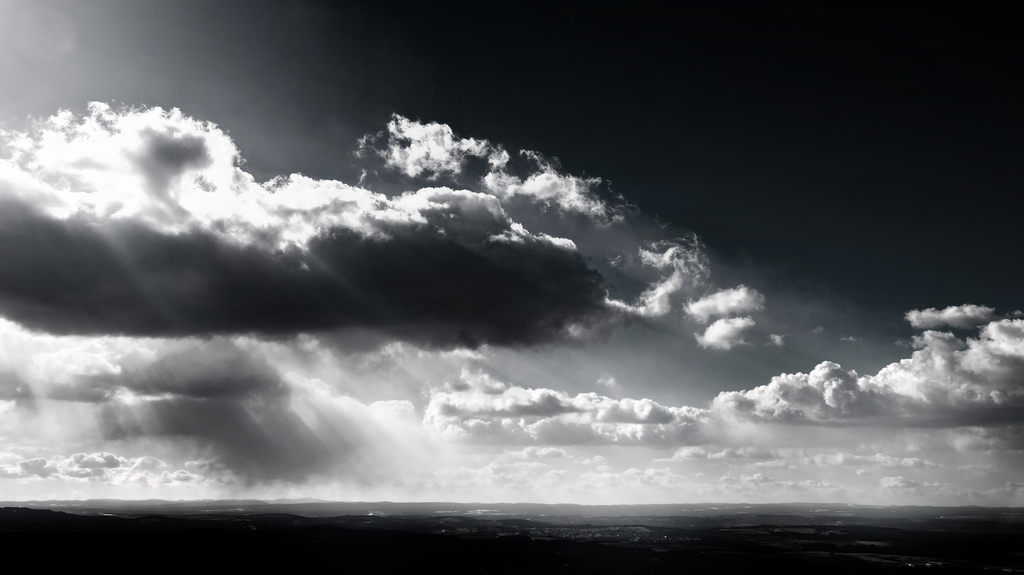 Ah yes, there are few things more debilitating than the slippery slope of a funk. Whatever the initial cause, be it a breakup or mild depression or gloomy weather or you're just having a really bad day (or week, or…), once you've fallen down the rabbit hole, it can be ridiculously hard to crawl back out again. I cannot count the number of times I've been sitting with a bowl of ice cream or a glass of wine or the TV remote (or possibly all three at once) thinking (knowing) that these choices I'm making are the exact opposite of the ones I, ahem, should be making in order to turn things around, but the feeling of apathy is so strong that it's just a passing thought. And that "should" is telling too, because that critically undermining voice in my head has free reign in those moments, telling me all the things I'm doing wrong and playing on my worst fears. Sigh.
So I think we could all make a (long) list of all the things *not* to do in these instances, those things we all too often do even though we know they're likely to make us feel worse in the long run. And I think most of us could also make a (long) list of all the things we think we *should* be doing in these instances, those things that we probably won't do because the stretch is too far and we'll feel so guilty for knowing we won't do them that the thought of them will send us running for the chocolate even faster, because hey, if you're gonna "fail" you might as well do it with chocolate. Neither of those lists is especially useful once the funk has already gotten a hold of you. Instead, my goal here is to come up with an alternative list, a list of those things that just maybe could tip the balance just enough to end the slide and just maybe start to turn things around again. It's about the subtle shift of vibration, reaching for a thought that feels better, as Abraham says, so you can at the very least "stop the bleeding."
Baby steps. First and foremost, it is very important to stress (especially to myself) that this is all about BABY STEPS. The reason those "good for you" things don't help is that they feel too distant from where you already are. If you've never been on a pair of skis in your life, you know to avoid the black diamond slopes–the gap between your skill level and the skill level needed to succeed there is just too great. Well, this is no different, really. You may think you have plenty of skill–and under different circumstances you most certainly do–but for now, it is in your best interests not to try to do too much too fast.
Start where you are. A corollary thought is to acknowledge that you are where you are, and to be gentle about it. I wrote a post a few years back about starting where you are as it relates to achieving your goals, but the same idea applies here. "Starting where you are is about being loving and compassionate towards yourself. You may dream of what you want your life to look like, who you want to be, and often that leads to beating yourself up, judging yourself and finding yourself lacking. This is counterproductive, placing the emphasis on what you don't want instead of on what you do want. The first thing to do is to recognize that you are where you are, and while you are capable of realizing your dreams, you have to be gentle with yourself as you take the steps necessary to get there. I like to think of it as building your muscles. If you had a dream of running a marathon, you wouldn't try to run 26.2 miles tomorrow. You would put a training program in motion and build your muscles and your endurance to enable success. Each step in the training program is a stretch and while you get close to your objective during training, the day of the event is the day you actually achieve your goal." See, baby steps!
Choose a thought that feels better. All right, so now that you're focused on starting where you are and only taking baby steps, the next goal is to choose a thought that feels better. I love that this idea seems to be such an inherent part of our collective consciousness now, but I remember when I was first introduced to the idea in Abraham-Hicks's Ask and It is Given, I was blown away (in the best possible sense) by the simplicity and power of this practice. In a process called "Moving Up the Emotional Scale," they lay out a scale of emotions from best-feeling (joy, knowledge, empowerment, freedom, love, appreciation) to worst-feeling (fear, grief, depression, despair, powerlessness). Yup, that funk is at the very bottom of their emotional scale. The good news? There's 22 feelings on this list, and you don't need to go all the way from 22 to 1 in one sitting. In fact, that's likely to be impossible. Instead, all you have to do is reach for a better-feeling thought that is somewhere up the scale from where you. Guilt? #21. Anger? #17. Frustration? #10. Even the smallest shift can get the energy moving in an upwards direction.
Dance. Depending on your mood, this one might be out of reach, but with just the right combination of funk + beginnings of an energy shift, you might be able to turn on some body-moving music and let nature take its course. Just getting off the couch and doing a little head-banging may be all you're capable of, but it may also be enough to raise that vibration up another notch or two.
Write. Again, this may feel like too much of a stretch, but especially if your funk originated with some worry or anger or jealousy, you might find writing to be a powerful tool to take some of those thoughts that keep swirling through your head and get rid of them on the paper so that they can start to let you go. I would definitely recommend pen and paper for this exercise–the visceral connection with the pen and watching the flow of letters on the page make a real connection between what you're writing and letting it go. It's flowing out of you, into the pen, and onto the paper. If it makes you feel better to think of it as writing a letter to the person that first upset you, all the better . . . so long as you don't mail it.
Cut yourself some slack. This one can be hard to do when in the throes of a funk, but if you've started to feel the winds change you might be ready to cut yourself some slack. That TV show you're watching? Not the end of the world. This is where you are right now, and you are already taking steps, however small, to shift that energy. Give yourself some credit for what you've been able to do–and here's the key–without also giving yourself a hard time for what you haven't. Rome wasn't build in a day, and you're not going to shift from depression to joy in a day either. So acknowledge whatever shift you *have* been able to achieve and end the internal conversation there.
Keep the energy moving. Okay, so maybe it's the next day and you're no longer in the depths of despair. Hallelujah! Take a moment to celebrate yourself for taking the baby steps necessary to get yourself up and out of that hole. But the mistake we all too often make is to stop there. You're feeling so much better that the depression of yesterday seems distant and fuzzy, but it's likely that you're now at worry or frustration or doubt–in other words, not completely out of the woods. That slope is still a slippery one, and while you're on much better footing today, there are more baby steps you can take to continue that upward momentum. Maybe you've already got a strong spiritual practice, in which case you know that it really doesn't take much–a few minute meditation, a repetition of your mantra, singing a verse of a chant–to get you reconnected to your Source. It doesn't take much, but it does need to be done. For more ideas about taking those baby steps a little further into the realm of connection, check out this post I wrote back in the day about Reconnecting. Chances are you got to this point via some old patterns, so maybe it's time to start creating some new ones.
As with much of what I write, I wrote this for me far more than for anybody else. Once I find myself on that slippery slope, old patterns kick in and make it so so so easy to just keep on slip-sliding away. I've found myself on more than one occasion looking for that inspiration that will just keep it from getting worse–I know what's at the bottom of the hole and I don't want to go there–but that reach all too often feels too great. I'm bookmarking this post, adding it to my "In Case of Emergency, Break Glass" list. And I would love to hear from you too–what do you think? What here really resonates with you? And what has worked for you in the past to help shift you out of a funk? Namaste.