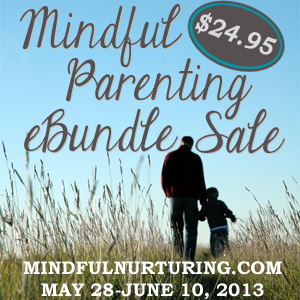 I am super excited for the Mindful Parenting e-Bundle sale that begins today and runs through June 10th! Some of the top conscious parenting bloggers have joined forces to create a fantastic bundle of resources at a fraction of the cost. Topics include gentle parenting, self-care for parents, creativity and play, children and food, spirituality, and more—pretty much sums up what I'm all about these days!
More than 20 products for $24.95 (valued over $274). Available only from May 28 to June 10, 2013. And if you buy the bundle through my website, I get a portion of the proceeds. Win win!
I am going to be writing more about mindful parenting throughout the 12 days of the sale, but this is such a great deal that I wanted to get a quick blurb up about it this morning. I love how positive parenting, conscious parenting, gentle parenting, spiritually-aware parenting, mindful parenting—all subtle variations on what is essentially the same theme—are taking off and becoming more the "norm." It bodes well for this generation of children and those to come—and their parents! Namaste.