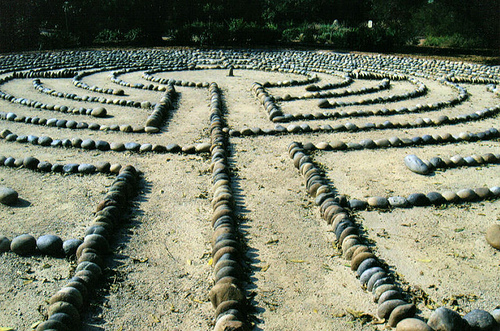 Life always gives us exactly the teacher we need at every moment. This includes every mosquito, every misfortune, every red light, every traffic jam, every obnoxious supervisor (or employee), every illness, every loss, every moment of joy or depression, every addiction, every piece of garbage, every breath. Every moment is the guru.
~Joko Beck
Have you ever had a feeling or a hunch about something that you just couldn't rationalize? Did it end up being right on the money? For the longest time I dismissed those feelings, using my reasoning and rationalization skills to either come to the same conclusion or the opposite one depending on what I wanted to see. If I had learned earlier to trust those feelings, I would have saved myself considerable anguish in my life, but apparently it was a lesson I needed to learn the long way.
What I know now is that the universe and my inner wisdom are speaking to me all the time. When I pay attention to these messages, things fall into place with such ease I'm in awe. When I don't pay attention or ignore these messages, things have a way of getting messy and tangled. So what's the trick to getting in touch with your intuition? The good news is we've already talked about the two things I think are most important to pave the way: clearing the slate and conscious connection. When you reduce the distractions in your life and take the time to be still and listen each day, you are building the muscles needed in order to discern which of those voices in your head is your intuition.
As the quote above suggests, messages show up in a myriad of ways, and they are always coming to us. Sometimes an idea will just pop into your head, other times a book will fall off a shelf. Perhaps you turn on the radio and the lyrics to the song playing are the answer to a question that's been bugging you, or you get an email from a friend telling you about how they just solved a problem you've been struggling with. Or it might be that you run out of gas in front of a building with a mural painted on the side, and the words in the mural are exactly what you needed to be reminded of. Once you begin to pay attention, you will see these kinds of messages everywhere!
You can consciously cultivate this process by doing things like using an oracle card deck or playing "book roulette"–play around with these ideas until you find a method that feels good to you. There are hundreds of oracle card decks on the market these days from a wide variety of authors and artists. My current favorites are angel cards by Doreen Virtue, which I discovered on a retreat to Sedona I went on last fall. One of my friends had a deck that she used each day, pulling out a card and reading its message. By the end of the retreat, the whole group was doing it. I had never been into angels previously myself, but these cards are beautifully designed and the readings to go with them are simple and metaphysical, and almost always exactly what I need to hear. "Book roulette" will work with just about any book, but I would recommend using one that you find to be especially wise. Some people like to use the Bible, others use The Science of Mind, by Ernest Holmes, known as "the textbook" to many Religious Scientists. I've had great luck with Sufi poetry–my favorites are Hafiz and Rumi. And my guess is Eat, Pray, Love would work wonderfully for me as well. Once you have a book in hand, formulate a question and then open the book at random. Start reading wherever your eyes fall on the page or use your finger to point at a passage.
Fear is also a wonderful route to getting in touch with your intuition, even if that doesn't sound especially intuitive. The voice of fear is almost always telling you what you need to do in order to stay small, to stay exactly where you are and avoid changing and growing. I've learned that because of this, if I do what it is telling me NOT to do, I open myself up for great discoveries, or at the very least the opportunity to neutralize an old pattern. It can be as small as picking up the phone to call someone or as big as quitting your job. Last year, I spent a lot of time trying to "figure out" what I should do about my work. I got the message to leave my job over and over and over again, but I rationalized it away, saying that was just wishful thinking. The voice of fear kept reminding me that I needed a job for a million reasons, from money to having a hole in my resume to "what would people think?" The day I decided to give my notice it was like the dark cloud over my head lifted and the sun came out and I was light as a feather and filled with joy. It resonating so deeply within me that I finally recognized which voice was which and knew that it was the right thing for me to do.
Now that you're ready to listen to your intuition, to those messages the universe is sending you, to the wisdom that lies within you, the next step is to learn to trust it enough to follow where it leads. Trust is a muscle, just like anything else, and it has to be built. Start with something that feels small, that feels like you have nothing to lose, like what to have for dinner tonight or what to wear to work tomorrow. Feel the difference between doing the thing your intuition tells you to do and ignoring it. For me anyway, once I started paying attention to what was resonating versus what wasn't, it was easy for me to trust. It definitely feels better! As Nike says, Just do it–you'll thank yourself later.
Recommended Reading
Developing Intuition, by Shakti Gawain
The Gift, by Hafiz, translated by Daniel Ladinsky
Healing with the Angels Oracle Cards, by Doreen Virtue
The Psychic Pathway, by Sonia Choquette
The Soul of Rumi, by Jalal Al-Din Rumi, translated by Coleman Barks
Trust Your Vibes, by Sonia Choquette
Originally posted on Jenn's Two Cents/Learning to Fly