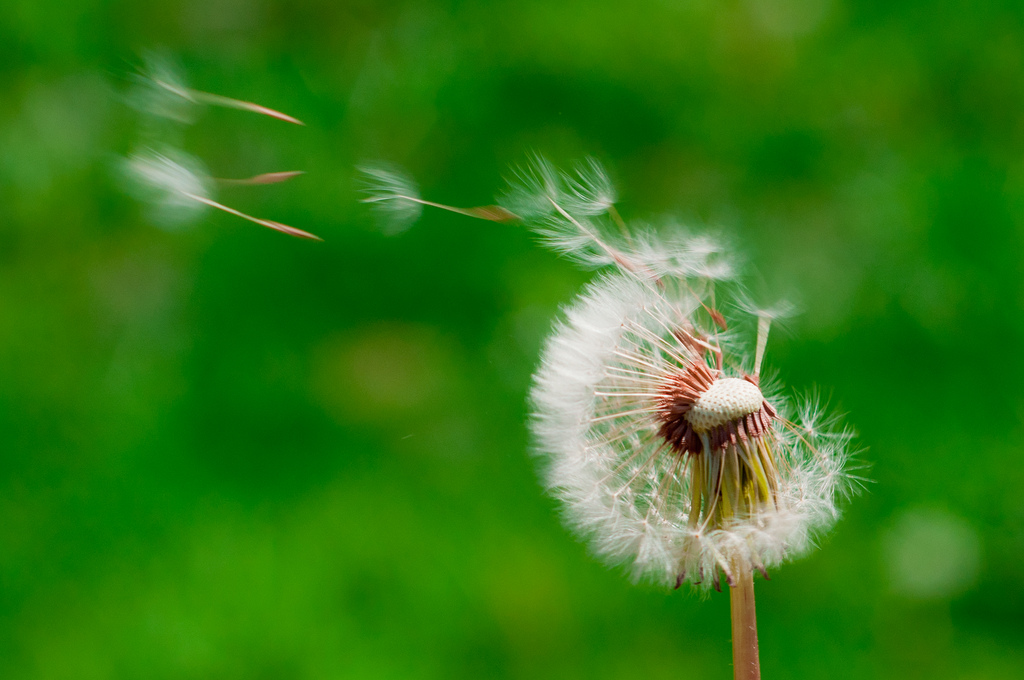 One of the largest obstacles to living life fully is the white noise, the clutter that builds up in our minds and bodies. Think of yourself as a receiver–in addition to the voice of your intuition, your inner guidance system, you're getting input from your environment, from the people around you, and from the other voices in your head like fear and your inner critic. We recently got a new clock radio that picks up so many stations, it often dilutes the quality of the ones we want to listen to, creating static and dissonance. This is what having so much input all at once does to you–it clogs up the works so that you can't hear the messages coming to you from the universe, you can't discern the difference between what is resonating for you versus what isn't, you can't see what is being placed in your path for you to work on. It all just becomes noise.
Clearing the slate is about looking closely at these distractions, cleaning things up inside and out so you can actually see and hear what's going on. The first place I would recommend looking is at your physical environment. Do you tend to have clutter around you, on your coffee table, your dresser, your desks at home and at work? Are your closets overflowing with all of the things that have just been shoved in there? Is your car full of empty water bottles and fast food bags you were too busy to throw out? When things around us are chaotic and disorderly, it tends to generate chaos in our minds as well. Treat yourself to some time this week to tackle an organization project that has been on your mind for a while, and take a few minutes each day to arrange your home and office, picking things up and throwing things away as you go so that are living and working surrounded by harmony.
As you begin to establish order in your life, you may begin to notice the source of some of your other distractions. Begin to pay attention to your thought processes, especially when you hear things like "I can't do that because . . ." or "I don't have time . . ." or "Maybe one day I'll be able to . . ." The idea that we don't have enough time to do the things we want to do is a choice. How much time do you spend watching television, having a beer (or two or more), gossiping by the water cooler, playing video games (and yes, computer solitaire counts), or reading about what's happening in celebrities' lives? Sure, there are plenty of things we do throughout the day that are necessary, but there are plenty more that are essentially just time suckers, distractions that keep us from even thinking about what it is we'd really like to be doing with our time, let alone actually acting on those ideas.
Another way we distract ourselves is by living in the past instead of in the present, defining ourselves by what has come before instead of where we are today. Each moment is a new moment, with the opportunity to make a new choice. When we cling to old ideas, old beliefs, old patterns, we keep ourselves locked in the past. When we hold on to perceived hurts, we get weighed down, hurting ourselves anew every time we think of them. Letting go of these things fills you with such energy, with such lightness, that you can use it as a springboard, catapulting you in the direction of your dreams. Make the choice to put down the baggage you've been carrying around with you, forgiving yourself and those who have hurt you, recognizing that right now is the only moment that really is and choosing to live it from a place of love and light and laughter.
At this point you are probably ready for some cleansing of the body and the mind. A little self-love goes a long way here. You might choose to do a fast of some sort, although really, the goal here is to do something that feels good for yourself, that feels nurturing. It might be as simple as making yourself a special meal where the only special occasion is that you're taking care of yourself. Or you might choose to eliminate or reduce something in your diet that you tend to overindulge in. Or you might choose to follow the Native tradition of smudging, burning sage to cleanse your home and yourself of any negative feelings or influences that have built up there. Whatever you choose to do, find something that is meaningful to you and imbue it with a sense of ceremony, allowing it to really sink in on all levels.
Following are a couple of exercises you can use to help with the process of letting go. You might use them alone or in conjunction with some of the ideas we've already discussed here. I don't follow any specific schedule, but when things start to get clogged up for me, I often receive a message that says it is time to do a burning bowl or do some forgiveness work. When you listen to your inner wisdom, you will know when is the right time for you as well.
Forgiveness Exercise
There are many guided meditations out there that will walk you through a forgiveness exercise. I like to do this simple exercise that is a melding of various traditions I've been introduced to along the way.
Start by making yourself comfortable in a sitting position–you can use a more traditional meditation stance if you'd like, but sitting cross-legged in your favorite chair works just as well. Close your eyes and spend a few minutes breathing deeply, visualizing the tension flowing out of your muscles as you move from the top of your head down to your toes. You might choose to envision yourself being enveloped in a loving presence, full of kindness and compassion and unconditional love. Know that you are truly loved, inside and out, and that nothing you could ever do would shake that love.
When you've achieved a feeling of peace and relaxation, bring into your mind's eye a picture of the person you are ready to forgive, which might even be yourself, and see them sitting across from you. Visualize this individual in the same state of peace and relaxation that you are. Take a few minutes to speak your peace, stating what it was that they did that hurt you and how it made you feel. This is not about blaming them or telling them that they are wrong–this is a time for you to talk about your perception of what happened and its effects on you. Talk until you've gotten it all out of your system and you feel like you are ready to move on.
Keeping the image of this person in your mind's eye, acknowledge that whether the hurt was intentional or unintentional, you are ready to release it. Tell them out loud that you forgive them and ask for their forgiveness in return. Imagine both of you being filled with a cleansing white light, and allow yourself to float in this light, feeling free of the weight that has just been lifted from you. Allow the other person to float off along their own path, blessing them on their journey. Stay in this white light until you feel the lightness transferred into your physical being.
As they say, nature abhors a vacuum, so take a few moments to focus on what you are grateful for. You can say it out loud or write it down, but really feel that gratitude, allowing it to fill the space that now exists within you. The gratitude does not need to tie back into what was just released, but should feel genuine, and might even bring a smile to your face.
Repeat this exercise every couple of days until you feel like the forgiveness has truly sunk in throughout your body and mind.
Burning Bowl Ritual
There are a variety of different ways to do this ritual, which is often practiced when something is coming to an end as a way of releasing the past before the new work can begin.
Gather together a few materials that you'll need for this ritual: a candle, a lighter or matches, a pad of paper or slips of paper, a pen, a bowl to catch the ashes. Optional: tweezers, sage.
Write down on individual pieces of paper all of the things that you are ready to release, from an old belief or pattern to a person. Keep in mind that releasing a person does not have to mean that you are rejecting them from your life but it is an acknowledgment that they are on their own path as you are on yours. When you are finished writing things down, take a few moments to relax, closing your eyes and taking a few deep breaths to allow any last nuggets to come to mind.
Light the candle you have in front of you. You might choose to say a little prayer, whatever comes to mind about your intention for this ritual. Pick up the first piece of paper, holding onto just the corner. (Optional: use tweezers to hold the pieces of paper to protect your fingers from the flame.) Read what is written on the paper, saying out loud that you are ready to release this belief, pattern, person, etc. Affirm what you accept into your life, the positive thing you'd like to see manifest with this release. For example, if the thing you are releasing is your debt, then you'd say something like: "I release this debt. I know that I am prosperous and I am now living my life from that place of abundance." Allow this affirmation to sink in as you place the slip of paper in the candle's flame. Watch the words burn and feel the sensation of release of this concept, allowing the ashes to fall into the bowl in front of you.
Repeat this process with each of the slips of paper you have written on until all has been released. You might choose to take this opportunity to burn some sage to cleanse the residue of what you've released from yourself and the room. Do something that feels ceremonious with the ashes–some people like to bury them, I'm okay with just washing them down the drain. Again, you might want to take a moment to do say a prayer affirming your intentions.
I do this ritual periodically, about once every other month or so, depending on what is coming up for me at the moment. There is no right or wrong way to do this–sometimes I've done them two days in a row because I remembered more things I needed to release or I felt like something was especially sticky. Just do what feels good here.
Recommended Reading
The Four Agreements, by Don Miguel Ruiz
Radical Forgiveness, by Colin Tipping
True Balance, by Sonia Choquette
Originally posted on Jenn's Two Cents/Learning to Fly