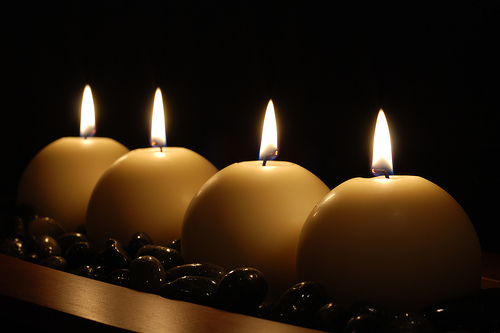 The miracle is not to walk on water. The miracle is to walk on the green earth, swelling in the present moment and feeling truly alive.
~ Thich Nhat Hanh
I don't know about you, but I am a busy person. If you have ever tried to make a plan with me, you know how true this is. I have a wide variety of interests and I generally like to be doing things, whether it's going for a hike or hanging out with friends or reorganizing a closet. Even without working full-time right now, I get myself so busy some days I feel like my head is going to spin on my shoulders. My saving grace? My meditation practice.
The word "meditation" has a lot of expectation tied up in it. There are schools of thought out there that follow pretty specific guidelines–that's not (exclusively) what I'm talking about here. Whether you call it meditation, or sitting, or being still, the point is to take time each day to stop doing and to practice being. Guided meditation, walking meditation, silent meditation, or even just watching the waves crash on the beach–whatever works for you, this is what I mean by meditation.
So how does something that requires more time get fit into a busy life? I know one of the first places of resistance that I go to is, "But I just don't have the time." The truth is, you don't have to meditate for a long period of time to feel its benefits. While my goal is to meditate at least 30 minutes each day, the minimum commitment I make to myself is 15 minutes. Still sound like too much? Then start with 10 minutes, or even 5. The amount of time is less important than the commitment, the practice.
August Gold recommends a daily morning practice she calls 5-5-5: five minutes of reading, five minutes of writing, five minutes of sitting. If you have more time, then expand each section to fill it–currently, I'm at roughly 30-30-30. All three pieces come into play as part of the larger concept of connecting consciously to Source–or God, or the Universe, or Infinite Intelligence, or whatever you like to call the Oneness, the omnipresence that is back of all creation–and your intuition, that internal wisdom that is there to provide you with guidance. Doing five minutes of each activity should fit into even the busiest schedule, and each has its own benefit. Plus, starting your day with such a self-nurturing connection enables the rest of your day to flow that much more smoothly and gracefully.
The benefits to conscious connection are probably too large to enumerate here, but let me just start with the basics to whet your appetite–I assure you, the longer you engage in this practice, the more advantages you will become aware of.
Reading: For many of us, reading an eye-opening book was the gateway to the journey we find ourselves on today. Once you've read enough, you start to truly understand that there's nothing new under the sun, however each new approach, each new turn of phrase, each new perspective opens you up to a deeper understanding than you held before. I can't tell you how many Aha! moments I have had where in trying to explain it to someone else I realized it was something I already knew quite well, but there was just something about this new way of thinking about it that made me really *get* it. Incorporating reading, even for just five minutes, into your morning practice gives you the gift of fresh inspiration to apply to whatever crosses your path that day.
Writing: The idea of daily writing calls to mind the countless diaries I filled as a kid about what I had done that day or which boy I liked or why I was mad at my mom. And while getting that detritus out of your system through writing is one of the benefits of this practice, once you've been doing this for a while you begin to access your inner wisdom in a new way. I've gotten to the point where I can just write a question and keep writing and the answer pours out of my pen. I receive nearly daily guidance in this manner about everything from reminders to call a relative for their birthday to what kinds of release rituals I'm due for to what to write about on Learning to Fly to what to make for dinner. For me, it started small, but the more I began to trust it and to follow its guidance, the more avenues it opened up for me.
Sitting: As we've already touched on, this practice is about getting still, about just being. It is how you begin to cultivate a sense of which of those voices in your head is the voice of fear and which is the voice of intuition, that still small voice within that holds the answers you seek. Sometimes, your mind is just chatty chatty chatty, and other times you can get to a place of quiet, but either way it all adds up. The effects may be subtle at first–you might feel a little more energized, or you might feel more intuitive, or you might feel more aware of what's happening around you. It's another muscle to be built, your meditation muscle, and over time as you build that muscle the effects become clearer and clearer. For me, as I touched on in my "Ah, meditation" post, it increases my awareness on many levels, leaving me feeling like I am communing with all of creation long after I open my eyes and begin to dive into my day. I am more in touch with my intuition, enabling me to be aware of what it is I need but also opening me up to seeing what is happening with those around me. It leaves me with a sense of calm and the ability to focus on things one at a time, to be mindful of what I'm doing in such a way that makes me more efficient and engaged. When I meditate regularly, I am simply MORE–more appreciative, more aware, more open, more intuitive, more focused, more peaceful.
The last piece of conscious connection is getting clear on what it is you want for your life and setting your intention. This concept is somewhat woven into each of the steps in this series as part of the circular nature of this path, so let's revisit it fully on its own in the near future. In the meantime, I hope I have at least piqued your curiosity. If you should choose to incorporate a morning practice into your daily routine, please let me know how it goes. And hey, let me know what you think are the most important things that I have missed!
Recommended Listening
Awakening Kundalini, by Kelly Howell
Retrieve Your Destiny, by Kelly Howell
Soul Stretch, by Caroline Reynolds
Tibetan Singing Bowl: Music for Deep Meditation
Recommend Reading
Meditation, by Eknath Eswaran
The Power of Intention, by Wayne Dyer
The Prayer Chest, By August Gold and Joel Fotinos
Tao te Ching, by Lao Tzu, translated by Jonathan Star
The Universe Is Calling, by Eric Butterworth
Originally posted on Jenn's Two Cents/Learning to Fly