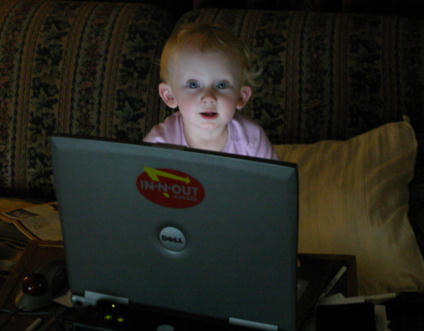 The phrase "working mother" is redundant.
~ Jane Sellman
I've been back to work officially one month today. I'm not gonna lie, it's been a rough month. There's always so much to do and rarely enough hours in the day to scratch the surface, let alone feel like I'm accomplishing anything or getting to spend enough quality time with the boys. But it's a work in progress, with each new day an opportunity for me to cull out what isn't working and try something new that might.
What's working includes focusing on the positives. The first time I went out to lunch with a few coworkers, I was holding a somewhat messy sandwich and I just took a moment to savor being able to eat slow(ish), with both hands. As busy as work can get, if I need to pay a bill, it only takes a minute to write out the check and walk it over to the mail drop — a task (or series of tasks, really — where are those stamps again?) that could have taken most of a morning when I was at home. The regularity of the routine has Spider Boy back to enjoying daycare — when I dropped the boys off yesterday morning he was happily anticipating getting to play with his friends all day — and he is relishing getting to spend more one-on-one time with Grandma again. And Bean has had a developmental boom that I know is due in part to interaction with children at a variety of developmental levels.
What's working also includes a combination of shifting my perspective and truly staying present to the moment. Most Sundays, I take the boys grocery shopping — what felt like a chore when I was on leave now feels like a fun way for us to spend time together. Spider Boy and I talk and hug our way through the store, and I get to experience how he interacts with the other customers (strangers are most certainly just friends he hasn't met yet). My husband and I have found new ways to connect with each other, whether it's talking (hands-free!) on our morning commutes or doing our chores in the same room during naps. Sleep deprivation may leave me fuzzy, but that's just an opportunity for me to let go of needing to be completely on top of everything, and having Bean wake up to nurse in the night feels like an opportunity for us to snuggle close.
And then there's the work itself. Returning from maternity leave gives me the opportunity to ask how I want to spend my time. Sure, every job has a series of tasks that need to be accomplished in order to say you're doing the job. But every job also has an opportunity for you to ask who am *I* in this job and how do I choose to show up? I choose to have my work be an extension of my Work, which means I choose to encourage people to live their lives more fully. When I was asked recently what people in my position do, the words I jotted down were: empowering, facilitating, mentoring, mediating, problem-solving. I would probably also add "healing" in the sense that I try to shine my light of positive opportunity into areas that might otherwise appear dark and see what shifts.
There is always room for improvement. I have my moments of feeling frazzled and emotional and exhausted and wondering how I'm going to get through the next five minutes let alone the rest of the week. But I am taking it one day at a time, taking every day as a practice, taking every moment as a new opportunity. And nothing, but nothing, beats the pure joy that runs through my being when Spider Boy comes running in at the end of the day yelling "Mommy! Mommy! Mommy!" as he throws himself into my arms, and then watching little Bean's face light up when he sees me. I am truly, madly, deeply blessed. Namaste.
Originally posted on Pachamama Spirit