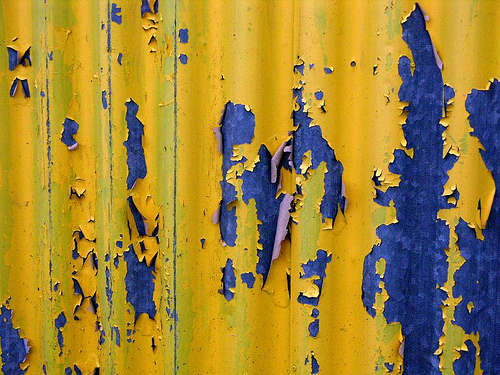 When I woke up this morning, the world was covered in a blanket of fog. I love mornings like this, when it looks like I'm all alone on top of the hill and there's nothing past the edge of my balcony. As the morning progresses the fog lifts and ultimately burns off, revealing the beauty of the world it was hiding from me earlier. While the fog is beautiful in its own right, what lies beneath contains a much deeper, more vibrant beauty. Very appropriate, then, that today I get to talk about coming out of hiding and unleashing your inner beauty that is begging to be revealed.
Whether you are aware of its presence of not, each of us has something special, something unique to share with the world. As children, we often learn that being different is a bad thing, and yearn to be just like everyone else. We ask our parents to dress us in the same clothes the other kids are wearing, enroll us in the same activities our friends are engaged in, watch the same TV shows and movies, play the same games, eat the same foods. Even when we rebel we tend to do in along some socially acceptable guidelines, just falling into another clique with its own rules for how to fit in. As adults, this same idea shows up in the kinds of work we do, the places we live, the cars we drive. This conformity is all outwardly focused as we worry about how other people view us, looking for external accolades to make us feel like we're really doing okay.
Your uniqueness, your specialness often gets hidden away in all of this, which is somewhat ironic considering the surest way to really feel like you're doing okay is uncover your gifts and share them with the world. There are quite a few forces at play here–need for approval, discomfort with vulnerability, lack of belief in yourself, fear of commitment, of making a mistake. I know for me that the process of eliminating these issues is ongoing and somewhat circular–the more I learn about myself and the world I live in, the more what I know to be true really sinks in, the more I can release these issues and allow the real me to come out and play. For me coming out of hiding is a practice, like meditation, that I make a priority every day, with three primary pieces to it:
1. There's no such thing as a mistake. I don't know where I first got the idea that mistakes were something to be avoided like the plague, especially since now I recognize there really is no such thing. When I look back over my life I know now that I would not choose to have anything play out differently, because each moment in time makes me who I am today. The relationships that turned sour, the jobs that didn't lead where I'd hoped they would–I learned so much from each of them, knowledge I get to use now as my life unfolds in the direction of my dreams.
The natural extension of this is that there is no such thing as failure. The world's most successful people are also the world's biggest failures in the sense that they have explored many different avenues in life until they found the one (or the many) that worked for them. Without that experimentation, those supposed mistakes and failures, they would not have discovered where their true talents lay, where their success would be. The lesson I take away from all this is that I need to explore more, try more, put myself out there as much as I can. Not everything I attempt will result in success, but that's okay–I know to keep learning, keep trying new things, keep exploring until I find what works, and then explore some more in order to expand that success into new realms.
2. What you think of me is none of your business. There are days where I need to write this in foot-tall letters and display it prominently around me. The gist here is that we do not need external approval. Seeking the approval of other people means you're living someone else's life, not your own. The point is to discover what makes you happy and then do it. If people want to approve or disapprove, that's their prerogative. Trust me, even when you're doing things that impress those people whose approval you're seeking, they often find ways to disapprove anyway. How they feel is about just that–how THEY feel and what's up for them right now–it really doesn't have anything to do with you.
Harold Whitman offers me better inspiration: "Don't ask yourself what the world needs. Ask yourself what makes you come alive, and then go and do that. Because what the world needs is people who have come alive." I try to ask myself this question everyday–what makes me come alive? Some of my answers so far: loving my friends and family, myself, my world; connecting with people, with Source; dancing (with and without music); learning new things; living consciously; making a difference in other people's lives, in the world; creating just about anything; being in nature; and, perhaps most of all, laughing.
3. Will the real me please stand up? One of my daily goals is to allow the real me to stand up and announce its presence with authority. In fact, that was the first sentence I wrote when I was putting together my initial notes for this topic–this idea just speaks to me in such a huge way right now. The persona I developed as a child was shy, with very few opinions of her own, a follower. I was somewhat surprised to discover that my natural state, although always open to learning new things, was to be very clear on how I feel about things, to be a teacher and a leader, and while I am introverted in the sense that I get my energy through my time alone, I love to meet new people, to spend time with my friends and family, to share and connect.
I've learned to stop labeling myself, to stop trying to pigeonhole myself, to allow myself just to be who I am with all of my quirks and differences, and I'm learning to apply that concept to others as well. What I'm still working on is integrating all of the different parts of me into one cohesive whole, and then showing up as simply myself when I go out into the world. I am spiritual, I am playful, I am peaceful, I am powerful. The more I show up like this, the more clarity I have about my choices, and the more the universe seems to open up, provide me with the answers I'm looking for, and say "Yes, please!"
What parts of yourself have you been hiding from the rest of the world? What gifts do you have that are still waiting to be shared? In what ways are you not showing up authentically? What seeds are you ready to plant today, and what is ready to blossom inside you? What makes you truly come alive? Start asking yourself these questions and others like them today. Begin the process of exploring, of experimenting, and come back and let us know what you've learned!
Recommended Reading
The Holy Man, by Susan Trott
Letters to a Young Poet, by Rainer Maria Rilke, translated by M.D. Herbert Norton
Risking Everything: 110 Poems of Love and Revelation, edited by Roger Housden
What Should I Do with My Life?, by Po Bronson
Originally posted on Jenn's Two Cents/Learning to Fly